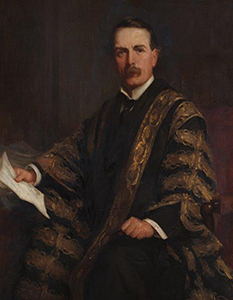 David Lloyd George (1st Earl Lloyd-George of Dwyfor OM, PC) (1863-1945), solicitor, Prime Minister
Raised in modest circumstances in Caernarfonshire, David Lloyd George qualified as a solicitor, with honours, in 1884 after his uncle used his life savings to pay the required premium of £100.
Lloyd George's role in the "Llanfrothen Burial Case" of 1888, concerning the right of non-conformists to burial in Anglican churchyards, helped to secure his election to Parliament for Caernarfon Boroughs in 1890.
He served as Chancellor of the Exchequer 1908-15, Minister of Munitions 1915 and Secretary of State for War 1916. He became Prime Minister in December 1916 at a critical juncture in the First World War. He represented the Britain at the Versailles Peace Conference and remained in office until 1922.