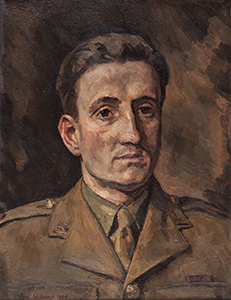 Rt Hon Sir Tasker Watkins VC, GBE (1909-2007) Lord Justice of Appeal and Deputy Chief Justice
Born in Nelson, Glamorgan, the son of an engine fitter and educated at Pontypridd Boys' Grammar School, Tasker Watkins pursued a commercial career in London before the Second World War. In August 1944, while serving as a company commander in the Welsh Regiment, he won the Victoria Cross, for his actions on the 16th August 1944 near Falaise in Normandy.
After the war he studied for the Bar and was admitted by the Middle Temple in 1948. He built an extensive criminal and civil practice on the Wales and Chester Circuit and was instrumental in maintaining its independence in the 1960's. As a lawyer he was a persuasive advocate before a wide range of tribunals, while on the bench he displayed an outstanding judicial temperament.
After serving as Recorder of Merthyr and Swansea, he was appointed to the High Court in 1971, the Court of Appeal in 1980 and served as Deputy Chief Justice to both Lord Lane and Lord Taylor. He was appointed GBE in 1990.
Tasker Watkins played rugby as an outside half for the Army, Cardiff RFC and Glamorgan Wanderers. He was president of the Welsh Rugby Union from 1993 to 2004, overseeing the switch from the amateur era to professionalism and the move from club to regional rugby in Wales.