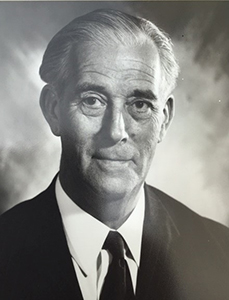 Sir Martin Edwards, (1909-1987) President of the Law Society of England and Wales
Martin Edwards was an alumnus of Lincoln College, Oxford. He was articled to his uncle Griffith Llewellyn of Gwilym James, Llewellyn and Co in Merthyr Tydfil and admitted a solicitor in 1934. A founder member of 614 (Glamorgan) Squadron RAuxAF, he served with distinction in the RAF in the Middle East during WWII.
After the war he joined his father in Cardiff in the firm of Charles & Martin Edwards. He served on the Council of the Law Society for many years and played a large part in changes to solicitor's professional education and formation of College of Law. In 1973 he became the first solicitor practicing in Wales to be elected President. In 1972 his family firm had merged with the firm of Allen Pratt & Geldard to form the well-known firm of Edwards Geldard (now Geldards LLP).