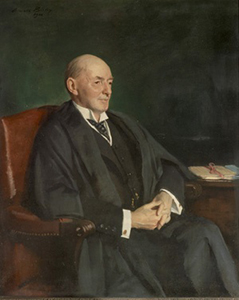 Lord Atkin of Aberdovey (1867-1944) Law Lord.
Lord Atkin was called to the Bar by Gray's Inn in 1891 and developed a great reputation at the commercial Bar. He was appointed to the King's Bench in 1913 and made a Lord Justice of Appeal in 1919, becoming a Law Lord in 1928.
He is particularly remembered for two cases. The "snail in the bottle" case (Donoghue v Stevenson - 1932) is the foundation of the modern law of tort. His dissenting judgement in Liversidge v Anderson in 1942 supported the right of the Courts to review Ministerial orders made under wartime regulations and pointed the way to the development of the modern system of judicial review.
Along with F E Smith, Atkin was crucial in the re-establishment of Gray's Inn, the inn of court most associated with Wales, at the end of the 19th century and the beginning of the 20th.