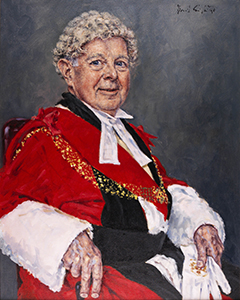 Rt Hon Lord Thomas of Cwmgiedd LCJ, Lord Chief Justice of England and Wales
Lord Thomas was brought up the Swansea Valley, the son of a solicitor who was the Under Sherriff of Breconshire. After a distinguished academic career at Cambridge and Chicago, John Thomas was called to the Bar at Gray's Inn and practiced at the Commercial Bar in London. He first came to public attention as the DTI Inspector appointed to report on the affairs of Mirror Group Newspapers and its proprietor Robert Maxwell.
After sitting as a Recorder on the Wales and Chester Circuit, he was appointed to the High Court in 1996 and served as Presiding Judge on the Circuit between 1998 – 2001 which coincided with the establishment of devolved government in Wales when he was instrumental in co-ordinating and animating the response of the Welsh legal community to these constitutional developments.
Following appointment to the Court of Appeal in 2003, Sir John served as Senior Presiding Judge, Deputy Head of Criminal Justice, before becoming President of the Queen's Bench in 2011. In 2013 he was appointed was Lord Chief Justice of England and Wales and made a Life Peer, taking the title Lord Thomas of Cwmgiedd. In 2017 Lord Thomas accepted the invitation of the First Minister of Wales to chair a Commission on Justice in Wales which produce a wide-ranging report in 2019. Lord Thomas is currently the Chancellor of Aberystwyth University.