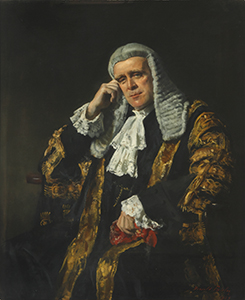 Viscount Sankey of Moreton GBE (1866 – 1948), Lord High Chancellor of Great Britain and High Steward of the University of Oxford.
Born in Herefordshire but raised in Cardiff, John Sankey was called to the Bar by the Middle Temple 1892 after graduating from Jesus College, Oxford.
Sankey practiced initially on the South Wales Circuit specialising in workmen's compensation cases, until he took Silk – which then required a move to London chambers – in 1909. Appointed to the High Court in 1914, he acted as a reviewer of internment cases during the First World War, including the cases of Irish republican internees held at Frongoch, Merionethshire. For this work he was appointed GBE. Although an opponent of the disestablishment of the Welsh Church, he was the principal drafter of the Constitution of the Church in Wales in 1917, which remains in place today.
In 1919 he chaired a Commission on the Coal Industry and produced a notable report recommending the nationalisation of the industry. He was appointed to the Court of Appeal in 1928. On the formation of the second Labour Government in 1929l he was appointed Lord Chancellor, taking the title Lord Sankey of Moreton. During his six years on the Woolsack, Lord Sankey was a pioneer of law reform setting up a permanent Law Revision Committee, the precursor of today's Law Commission.
In retirement, he gave his name to the Sankey Declaration of the Rights of Man, a charter drawn up in 1940 by a committee of which HG G Wells was a leading member and closely followed in the eventual drawing up of the wording for the 1948 UN Declaration of Human Rights.