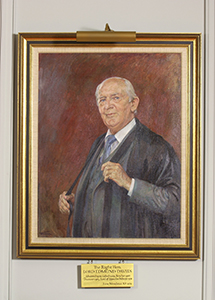 Lord Edmund-Davies (1906-1992) Law Lord
Edmund Davies, who was called to the Bar by Gray's Inn in 1929, was raised in the Cynon Valley and educated at Mountain Ash Grammar School from where he proceeded to King's College, London and then to Oxford where he won the Vinerian Scholarship.
He practiced extensively in Wales until appointed to the High Court in 1958 after serving successively as the Recorder of Merthyr Tydfil, Swansea and Cardiff. He was one of the bes- known judges of the 1960's and 70's not least for presiding at the trial following the Great Train Robbery in 1963 and as the chair of the Aberfan Tribunal. Appointed to the Court of Appeal in 1966, he became a Law Lord, taking the title Lord Edmund-Davies of Aberpennar in 1974.
When Edmund Davies was raised to the peerage he chose as his motto "Anela'n Uchel!" (Aim High!) which has found a living memorial in the Lord Edmund Davies Legal Education Trust which serves young people living in Wales or having a connection with Wales who are interested in entering the legal profession with the aim of ensuring that no one in society would conclude that their background would prevent them from entering the law.