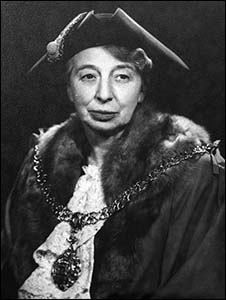 Agnes Twiston Hughes (1895-1981) Solicitor
Agnes Twiston Hughes was the first Welsh woman to be admitted a solicitor in 1925, after being articled to her father J W Hughes of Conwy. After taking a BSc (Econ) degree at London University, she took First Class Honours in the Law Society Final Examinations of 1923 winning the Sheffield and Mackrell Prizes that year for the top result.
Agnes Hughes practiced for her entire career in Conwy, succeeding her father as principal of the firm of J W Hughes & Co in 1949. She played an active role in the affairs of Conwy serving as a local councillor and as Mayor of Conwy in 1954. She was the major mover in the campaign to save Thomas Telford's Conwy Suspension Bridge and secure its preservation by the National Trust.